ST-513 LED beacon siren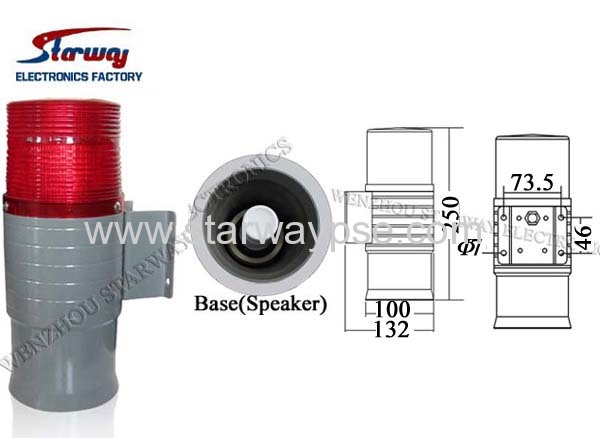 1. Summary
ST-513 sound and light alarm set of lights is our latest development of new products of sound and light alarm function as one, with open rain-proof attack capabilities.
This stand out the lights and lighting, a loud voice, precious commodities trading in the financial system, saving the best alarm devices, industrial equipment and other special places
2.Technical parameters
| | |
| --- | --- |
| Model | ST-513 |
| Voltage | DC12V/24V,AC220V |
| Light Power | 5W |
| Speaker Power | 40W |
| Sensitivity | >=120dB |
| Light Color | Red/Amber/Blue |
| Waterproofing grade | IP65 |
| Dimensions | 132x100x250mm |
3.Installation and Application
Select smart and above the human body and the right place, using the four mounting holes position of the mounting bracket, drilling(diameter 6mm) can be fixed with the M6 expansion bolts..
Power Alarm Switch on the convenience to the press and secluded location, such as when you want to use, just after pressing the Alarm Switch, warning lamp lights and alarms sound alarm will be issued immediately. Alarm Switch which can be accessed by a variety of types, the warning lamp applicable to places.