12V Magnetic Warning Strobe Light LED Beacon for truck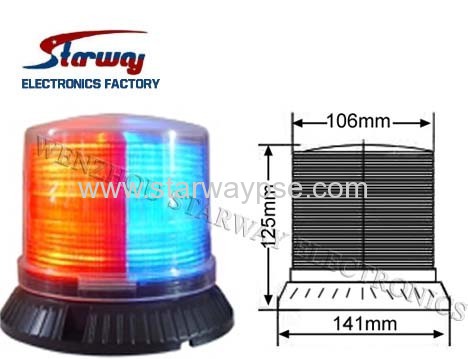 1. Summary
This Beacon light gives the user multiple flash pattern selection;This Warning LED beacon offers all the versatility of a safety beacon light with the long life and durability of a LED light.The flash pattern can be easily selected with a jumper accessible inside the waterproof cover.
2. Features
1) Colored lenses and Powered by 12V
2) 100,000 hour life span
3) 10 feet of cable provided
4) Runs on 12 PCS Generation 3 LEDs
5) Includes a double-flash pattern
6) Dimensions:14.1cmD x 10.6cmD x 12.5 H
7) Includes built on cigarette plug Magnet brackets used for mounting and double flash of 80 flashes per minute.
3. Specifiation
| | |
| --- | --- |
| Work voltage | DC12V |
| Type | Traffic Signal |
| Light Sources | LEDs |
| Life span | 100,000 hour life span |
| Dimension | 14.1cmD x 10.6cmD x 12.5 H |
4.Warning!
The warning Strobe LED beacon light(LED343 LED Beacon) is during or after use,the light's interior is in a state of high voltage.
Therefore, before removing hte hood back cover,it is ensure that the power is cut off, and must wait at least 5 minutes.If not,some one would be electric shock or property loss.