CJB-9500 Starway Police warning Remote siren light control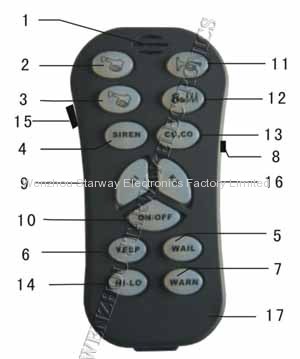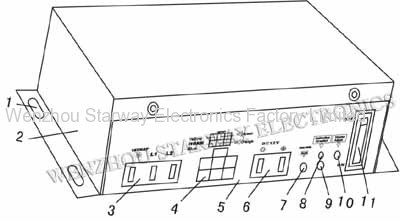 (figure 1) (figure 2)
| | |
| --- | --- |
| Handle the parts of the emission(figure 1) | The host name of each component(figure 2) |
| 1. the microphone | 1.the host installation hole |
| 2. low-weight single / low double-weight | 2.host cover |
| 3. high whistle / whistle | 3. the second group of lights controlled output |
| 4. whistle / Siren | 4. the second set of speakers and external siren |
| 5. fire / security | 5. host bottom shell |
| 6. security / fire | 6. power input |
| 7. Ambassador / fire | 7. the playback input(3.5 jack) |
| 8. a single mixed | 8. the code light |
| 9. A controlled lights | 9. the code key |
| 10.the power switch / 30 minute auto shut off | 10. the loudspeaker volume |
| 11.air / air defense jog | 11. standby switch |
| 12.8 sec / Ambassador | |
| 13.CO, CO | |
| 14.ambulance / transport | |
| 15. propaganda Switch | |
| 16. lights control B | |
| 17. the handle (ABS) | |
Features:
1. The use of advanced remote alarm tone, as many as 10 kinds of hand There are 6 police tones : siren , siren, whistle, whistle, selection , manual air-defense, hand to clear the way, security, fire, ambulance, Ambassador, etc.. Outside siren conversion, mixing conversion, play back conversion , propaganda, pause, 2 lights control power, emission indicator, propaganda light.
2. The transformer with high magnetic thin film alloy material to host on the sound quality and power efficiency greatly improved.
3. The remote control frequency of an open band, no applications.
4. the remote control handle on a more optimized system design, when the power is turned on can be the key operation when you do not operate in the case , without any button operation within 30 seconds automatically shut down when the remote control handle the power , so that the handle to achieve the minimum power consumption. (In standby mode with the host, such as sound or the police to operate function keys, need to re-open the power supply to operation).
5. Easy installation, the operating handle and host escape the shackles of the line, installation is very simple and convenient.