LED3505 Vehicle led light bar / Emergency car led light bar / Warning LED LED LightBar / Police LED Lightbar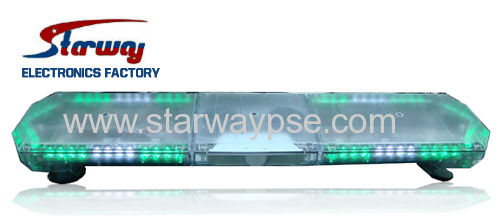 1. Summary
This Starway Warning Light bar is not easy to lose color and get aged. Moreover, the caution light has good sealing and water-proof. A lot of LED lights are distributed as a ring and use high power LED lights let it give out strong flash from each direction. And it has advantage with high brightness and low power waste. Even in extremely complicated, circumstances, it can transmit emergency signal correctly.
2. Features
1). High brightness LED lightbars
2) .Available in amber, white, red, blue ,green .
3). Working voltage: 12V/24V
4). LED bulbs, energy saving, low consumption, environmental protection
5). Weather-proof housing
6). Ideal for fire trucks, tow truck and oversized vehicles
7). All mounting hardware included (including universal roof mount straps)
8). Easy installation being near complete plug n play
9). Functional control box is included
10). Speaker is included
11). Rear directional is available
12). LED takedown and alley lights are available
13). Dimensions: 47" (Length) x 12" (Width) x 4.6" (Height with 2" being height of lightbar)
14). LED Color Combination Guide - You can completely color customize each light bar to use any number of colors in any combination that you like. Use the above BUILD REQUEST for to specify your lightbar.
15). LED Take Down/Alley Lights - OPTIONAL; this option allows you to have white LED front take downs and side white LED alley lights. You will also have the ability to have flashing take down and alleys which is included with this selection.
3. Specifiation:
| | |
| --- | --- |
| Work voltage | DC12V/DC24V |
| Light type | LEDS |
| Color | Red , Blue, Amber , White, Green |
| Dome | Imported high-strength PC material with excellent lustrous and high penetrating-for ability. |
| Base | Aluminum alloy material with high strength. |
| Bulb | LED light With the functions of high brightness fine stability ,low energy consumption. |
| Dimensions | 47" (Length) x 12" (Width) x 4.6" (Height with 2" being height of lightbar) |
4. Packing Information:

| | |
| --- | --- |
| Packing Size | 1220x310x140mm |
| Qty/CTN | 1PCS |
Note:
If the Warning LED lightbar can not work, please check the main fuse .

Workshop:



Applications:

Police, Fire, The Automotive, Police, Fire, Motorcycle, Construction,Emergency Vehicle and School Bus Industries