1. Summary
This product made of a lot of import LED lights. it has advantage with high brightness and low power waste. The light bar has good looking shape and stronger against impulse capability, and it not easy to lose color or get aged. with 6 direction lights on back of it, tree flash mode offer to choose. It can be installed on all kinds of special vehicles.
2. The main capability parameter

- The rated work voltage: DC 12V.
-
The length of the light: 1.16m
- The max. lightened bound: > 800LX.
- The environment temperature: -40 ℃~ +50 ℃.
- Waste currant: <10A
- Life Span:100,000 12/24V G-2 LEDs
- Dome: Imported high-strength PC material with excellent lustrous and high penetrating-for ability.
- Base: Aluminum alloy material with high strength.
- Size : 1220x310x1510mm
- Net Weight: 12 KGs

3. Explanation

3.1. Installation of the warning light bar
3.1.1. Put light bar on the back of the vehicle, base on the vehicle's size, adjusting the frame to fit it, And Then making the catch button the rainwater line on both side of the bodywork and screwing the nut by wrench. (Re. illustration of light bar below)
3.1.2. After installed, firstly the two main electrical wires should be connected with auto's storage battery (red to +, black to -), secondly firm plug the controller to the light bar. Then it can to work..
3.1.3. After checking, then turn on the switch of controller, and choose the flash mode, the light will beginning to work.

3.2. Controller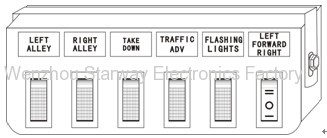 The switch LEFT ALLEY control the left alley light. The switch RIGHT ALLEY control the right alley light. The switch TAKE DOWN control the glowing light. The switch TRAFFIC ADV and the switch LEFT FORWARD RIGHT together choose the director flash in three mode (on LEFT means turn left, on FORWARD means drive ahead, on RIGHT means turn the right. ). The switch FLASHING LIGHTS control the main lights.

3.3. Shape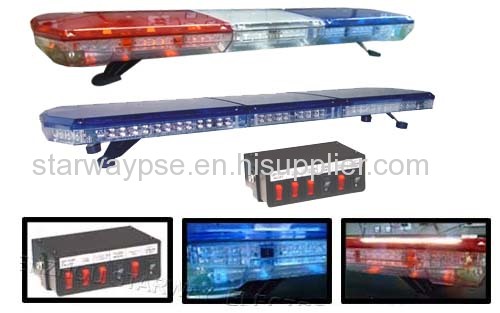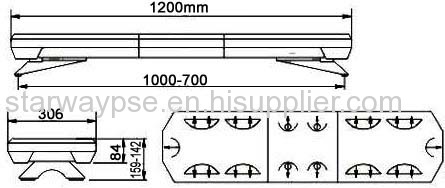 3.4. Instration of light bar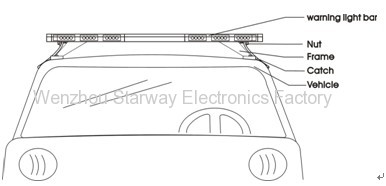 INSTALLATION OF THE LIGHT BAR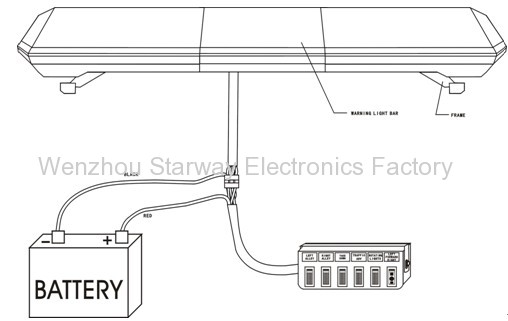 CONNECTION OF THE LIGHT BAR AND CONTROLLER
3.5. Note
If the light was no working, please check the main fuse inside the controller .

4. Applications:

Police, Fire, The Automotive, Police, Fire, Motorcycle, Construction,Emergency Vehicle and School Bus Industries