LTF-A420 Vehicle LED Mini Lightbar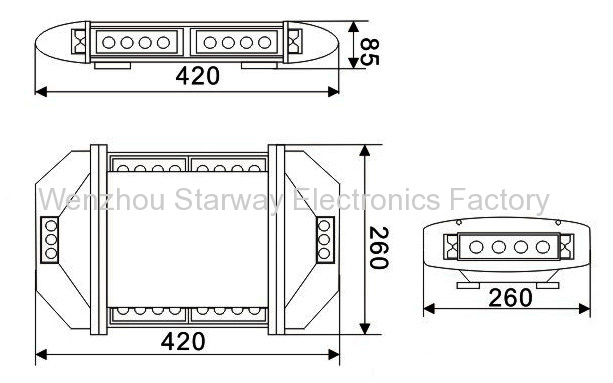 1. Summary
LTF-A420 low profile
LED mini lightbar
is made of high brightness LED, it use microcomputer programming chip, It has high brightness, low power loss, long life and so on the merits, it is equipped with a solid state flasher. The flasher has 5 flash patterns including random. To change flash pattern, press the momentary switch (locate on the lighter plug adaptor). Each time the momentary switch is pressed, the flash pattern will change once. It suit install in automobile vehicle.
2. Features
1). 6 new improved high intensity modules with 4 LEDs each that are 20% brighter
2). Ultra slim profile for an aerodynamic look
3). Includes magnetic mount and 2 button control switch Sleek design with clear lens for stealth look
4). The around material of lens is made of PC for penetrative ability.
5). Top of the light is aluminum alloy and with good appearance.
6). 6 - 1 watt LEDs
7). Cigarette plug with on/off switch
8). .Waterproof and shockproof
9). .Flash patterns:
Double alternating
Quad alternating
Single alternating
Double simultaneous
Random
3. Specifiation
| | |
| --- | --- |
| Work voltage | DC12V/DC24V |
| Type | Traffic Signal |
| Environment | -40 ℃~ +50 ℃ |
| Waste currant: | ≤3.6A |
| Light Sources | LEDS(G-III) |
| Color | |
| | 420mm L X 260 mm W X85mm H |
4.Packing Information
| | |
| --- | --- |
| Packing Size | 445x285x520mm |
| Qty/CTN | 5PCS |
5.Mounting and wiring
A. Place the mini bar on the roof of the vehicle, let magnetic base attracts the vehicle, ensure safety of the light and vehicle.
B. Plug the cigar cord to the cigar electrical outlet of the vehicle.
C. Turn on the power switch and press the momentary switch (locate on the lighter plug adaptor) to change flash pattern.
D. If the light doesn't work, please check the 5A fuse inside the cigar cord

WARNING: the steel content of vehicle roofs varies considerably and some may not be suitable for mounting warning lights with magnetic bases. It is the sole responsibility of the users of magnetic based lights to determine if portable warming lights may be safely used on the exterior of their vehicle.
Use only soap and water to clean the outer lens. Use of other chemicals could result in premature lens cracking (crazing) and discoloration. Lenses in this condition have significantly reduced effectiveness. Inspect and operate this product regularly to confirm its proper operation and mounting comdition. Donot use a pressure washer to clean this product.
Workshop:



Applications:

Police, Fire, The Automotive, Police, Fire, Motorcycle, Construction,Emergency Vehicle and School Bus Industries