SY3539A 18650 Battery Super Bright Rechargeable CREE LED Flashlight with 230


1. Summary
The SY3539A LED Flashlight 's long run time and durability makes it a popular choice with everyone from homeowners to the professionals working a long night job.

2.Product structure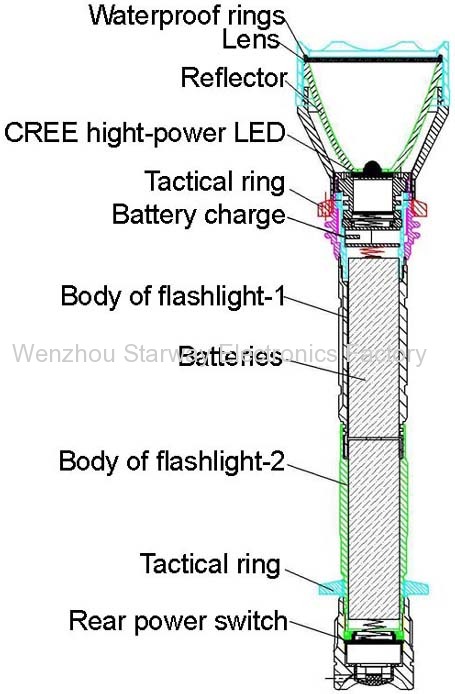 3. Features
1). 9.3 inch long, 1 inch wide
2). Space grade T6 aluminum
3). Crown cap for a window punch
4). Waterproof
5). Rechargeable Lithium Ion battery can be recharged 500x
(or 2- 123A batteries)
6). Integrated Circuit prevents overcharging
7). 50,000 hour bulb life
8). Tail cap switch tap switch toggles between 5 modes:
High mode: 282 lumens, 3.5 hour run time
Medium mode: 122 lumens, 10 hour run time
Low mode: 40 lumens, 30 hour run time
Flash mode: 122 lumens, 10 hour run time
Comes with car and home charger

4. Technical parameter
| | |
| --- | --- |
| Name | LED highlight rechargeable flashlight |
| Dimension | 235mm*57mm*25mm |
| Weight | 263g(Without batteries) |
| Circuit function | 5 gear dimming |
5.Packaging





Unscrew top portion of light to expose female charging port plug in charger turn on switch. Light on plug will turn from green to red. When charging is complete light will turn back to green.
7.Matters for use need attention:
Thanks for choosing to use this product, in order to long use, those matters below need attention:
1). When using Floodlighting mode ,don't let the light direct into people's eyes, Floodlighting could lead to permanent eye damage.
2). Lamp holder can not be removed, that can avoid damaging lamp holder components and lenses.
3). Lithium batteries belonged to recycling items can not be threw into the fire, please according to standard correctly handle the used batteries

8.Maintenance instruction:
The daily routine of flashlight maintenance can maintain long-term service for you.
1) Please use clean soft cloth to wipe the flashlight after each use.
2) When the torch is stained seawater or corrosive liquid, please rinse with water and dry it with hair dryer.
3) When the lamp or end cap is not turned smoothly ,please brush the seam is brushed with some little waterproof silicon grease.
4) When the flashlight don not be used, please push the battery out and put it in the shady place.
5) If the rechargeable battery (18650) is not used for a long time, it should be charged up one time for six months.

9. Warranty:
1) One year warranty (Product is damaged by the product quality problems)
2) The damage caused by misuse, torch surface damage are not in warranty scope.
3) The flashlights dismantled without explicit approval which is damaged is not in warranty scope
6. TO Charge the SY3539A LED Flashlight