Retractable traffic cones with LED flash light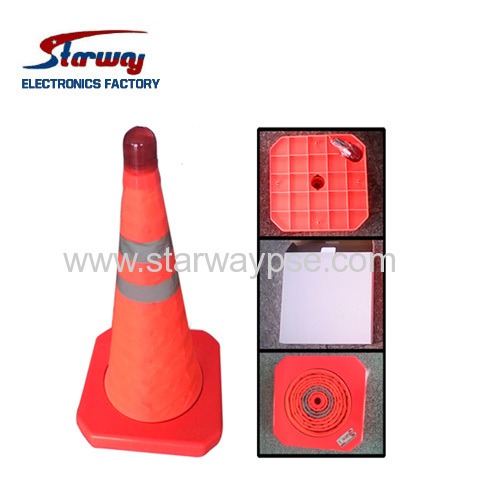 1.Summary
This Retractable traffic cone with LED flash light used on the crossing of roadways, maintenance of freeways, hotels, residential quarters, dangerous zone, building sites and so on.
2.Features
1)This retractable elastic barricade is provided to be noticed easily; to be carried conveniently by having a small volume. The top can be equipped with special warning light.
2)Waterproof cloth and ABS
3)Reflection material: reflective cloth
4)Material:PP or ABS

5)Specification: High 300, 400mm, 450mm, 600mm, 700mm
6)Part:LED Light
7)anti-uv,fading resistant
8)Works in barricade or separateness to hold up and compart traffic runoff.
9)Leads traffic; Protects construction establishments and passerby.
10)Durable, good elastic, glistening.
11)Have impact on caution and insulation.
12)Accessories: Top lamp, LED, use two 7# battery
3.Specifiation
| | |
| --- | --- |
| Model | TTC20401 Retractable traffic cone with LED flash light |
| High | 300mm,400mm,450mm, 600mm, 700mm |
| Type | Traffic Signal |
| Material | PP or ABS |
| Part | LED light |
| Accessories | Top lamp, LED, use two 7# battery |
4.Use scope

1) The traffic management;
2) Vehicle equipped with;
3) Large exhibition, park, military tour site classification;
4) Automobile club, 4 s shops, decoration shop, activities gift, retail investors purchase;
5) Large chain supermarket sales, etc
5.Packaging
| | |
| --- | --- |
| Packaging size | 3140x3140x55mm |
| Qty/CTN | 1PCS |