LTE3300 360 Degree Rotation magnet base Wireless Remote controlled HID Controlled Searchlights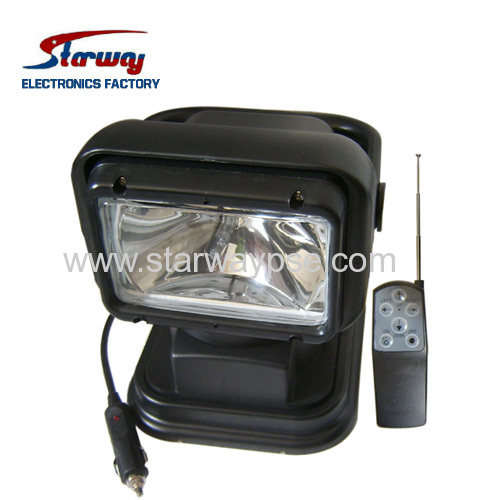 1. Summary
LTE3300 360 Degree Search Light is excellent for Home Security, Farm& Field Protection, Rescue Actions, Recreation Activities, Emergency Lighting. This product is easy to install on Ordinary Vehicles, Boats, Trains, Houses, Buildings, Any place where electricity is available.
2. The main capability paramete
◆ Power: DC12V/24V
◆ Candlepower (C.P):100000
◆ Lamp 12V 55W/100W
24V 15W
◆ Dimensions: 230Lx220Wx190H (mm)
◆ Unite Remote: 38Lx57Wx133H (mm)
◆ 12V Car Cord(in): 60″
◆ Control Cord(in): 120″
◆ Base Design: Ferrite Magnetic Pda
Rubber Vaccum Pad
◆ Halogen bulb and bolt fixture
◆ Control System: Cable
◆ Weights: 2.5KGS
3. Features
◆ The high performance of tight waterproof,dustproof,quakeproof.
◆ The suitable design for heating elimination.
◆ Innovated - vibration free mount stainless steel mounting bracket fasten with bolt and rubber cushion
◆ The valid irradiation distance is much more longer than normal bulb.
◆ High brightness and mounting flexible to truck and heavy duty vehicles.
4. Remote Control & Mobilized:
To avoid carry bulky lighting equipment
To prevent unknown threat in the dark
To prevent cold hand and rain-drenched clothes
To spot any corner any point
5. Suitable for critical environments:
Yellow light option good for foggy weather and snowy weather.
6.Application
Available for offroad vehicle,atvs,truck,engineering vehicles(excavator,treedozer,road roller,bulldozer,crane and mining truck etc.),special vehicle(fire engine,police cars,rescue vehicle,communication vehicle,military command vehicle)forklift,trains,boat,bus,and tanks.