The development of LED Lightbars
The development of LED Lightbars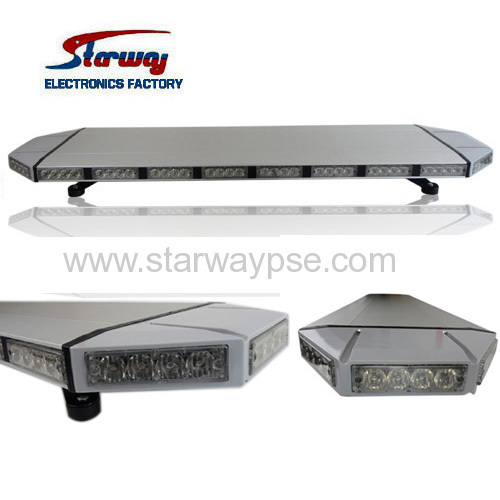 Initial period, these referred to a simple metal
lightbar
on the roof of the vehicle upon which agencies would mount two rotating beacons, as well as other components such as
sirens
and stationary "lollipop" lights.
Soon the beacons manufacturers began producing off the shelf complete "
LED lightbars
".

Later, the individual components of the lightbar were integrated into a single contiguous unit, with two elongated domes on either side of a siren enclosure. The extended domes allowed for more rotating beacons, additional mirrors, and fixed-beam lights toward the center to replace the "lollipops".

Now, Lightbars may contain fixed, rotating, strobe, or LED-based lights in various configurations and offering programmable flash patterns. They may include a second, lower, tier of lamps, such as clear halogen "takedown" lights towards the front to illuminate the vehicle being stopped, clear side-facing "alley" spotlights, additional amber or red towards the rear for scene protection, or directional traffic advisory arrows.

The modern trend of locating sirens on or near the front bumper of emergency vehicles has resulted in many lightbar models eliminating the siren housing in lieu of more lighting.

To find more led lighbars for your police vehicles, fire trucks, or ambulances, pleade visit Wenzhou Starway Electronics Factory Limited . In addition to affordable quality LED Light bars, we also carry a variety of LED Beacons, LED Dash / Deck lights, Grill / Visor lights, LED Flashlights, Police Sirens & Horn Speakers and a variety of other warning lights as well.

---